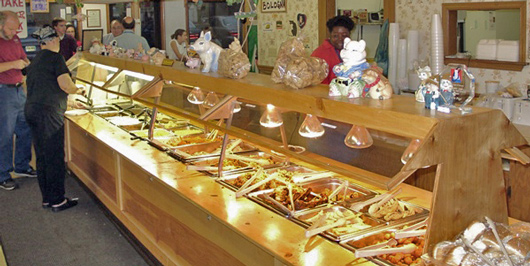 As part of the effort to reduce the spread of COVID-19, Little Pigs is currently serving sandwiches, plates, baskets and bulk items via Take-Out only from our Take-Out and Bulk menus.
You haven't tasted real Carolina barbecue until you have experienced Little Pigs Barbecue. We offer a full-service, dine-in buffet and take-out. The Buffet includes barbecue, ribs, brisket, pork chops, chicken, wings, fish, rice, hash, collards, beans, tomato pie, macaroni and cheese, and many more of your favorite home-cooked sides, desserts, and your drink! We feature the three popular styles of barbecue: Tomato-based, Mustard-based, and Vinegar-Pepper. If you don't have time to sit a spell and enjoy the buffet, stop by and select from our Take-Out or Bulk Menu.

If you want make your next event a huge success, you need our incredible catering services. Receptions, weddings, birthdays, church events, corporate meetings, and parties are just a few of the many events we can cater. Check our Catering Menu and Wedding Menu for a sample of what we offer.

"It's got to be pork, cooked to perfection with that hickory smoked flavor. But South Carolina has three different sauces, and we don't argue about which is best. We like 'em all !" --Champ McGee, owner